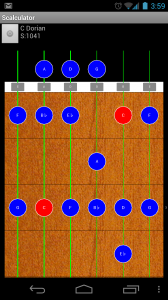 The trilogy is complete! Scalculator – Ultimate Edition is up on the Android Market!
The Ultimate Edition basically combines the ad-supported free Guitar and Keyboard Editions into an ad-free pay version. (Still free-as-in-Freedom, though – source code is up for everything on GitHub.)
I did roll in a few very minor feature additions, just a basic displaying of comments (for scales and arpeggios) and alternate and full names (mainly for arpeggios).  You can see that up in the top left corner, referencing the figure in Slonimsky's Thesaurus of Scales and Melodic Patterns.
What the future holds
Beyond bugfixes, I want to add "reverse lookups" – this is where you can give a set of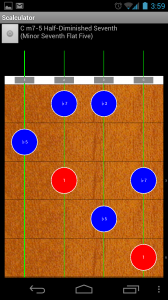 notes and Scalculator will return possible scales/arpeggios. I've implemented this several different ways in the past, so I have some ideas on how to apply the concept to mobile devices.
Another thing I'm considering is adding sound.
That's within the "Scalculator family" – I have a few ideas for some other apps as well.
Check it out
I hope you'll give the Scalculator a chance, in whatever flavor suits you and let me know what you think!